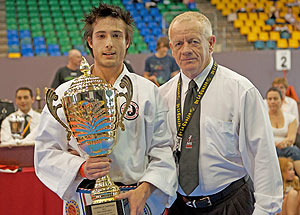 More than 500 of Australia's elite martial artists competed at the NAS Nationals held  in Victoria.
The 2012 National All-Styles Australian Championships came to a thrilling conclusion in Melbourne on the 1st and 2nd December 2012 with  Sensei DELIO SENATORE from our club Seishin-Ryu Karate-Do Australia defending his title and walking away with the men's Champion of Champions Title again.
Sensei Delio Senatore went back to back in the mens Black Belt Lightweight Division, before going up against the winners of the welterweight, middleweight and heavyweight division for the Champions of Champions Title.
Again he proved his mettle, overcoming the odds to take the crown and create history as the first Australian to win both titles in a row, in Kata and Sparring.
Sensei Delio Senatore received the Champions of Champions Title belt and Trophy.
David Hickman first ever to receive a 3rd  place in Mens Advanced Division at the Nationals .
Jamie Singh in the mens 16 to 17 yrs old received 2nd in Kata.
Ken Verrall as we all know gave it a go and enjoyed the experiance.
I want to thank all who supported and went to Melbourne for the Nationals.
osu
Ettore Senatore