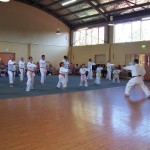 Seishin-Ryu Karate-Do is for everyone.
Karate is for all ages and both sexes. No special skills are necessary to begin karate.
If you can move your arms forward and backward then you can learn how to punch, block and strike. If you can lift your foot as high as your other knee then you can learn how to kick.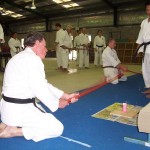 For children karate is a wonderful way to develop concentration, co-ordination, agility, self discipline, focus and motor skills.
For teenagers karate is an excellent tool for the enhancement of social skills and confidence. It minimises the physical and emotional awkwardness that teens normally face.
For adults karate benefits all: stress management, weight loss, strength, fitness and confidence.
In a Karate class you get to meet new and interesting people. You get to punch, kick and scream at each other without fear of confrontation. Most important of all is that while you are kicking away those excess pounds, you are also learning how to take care of yourself.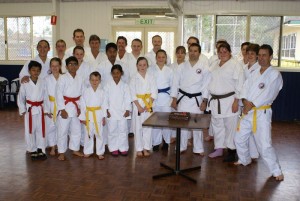 For class location and times please see our Location page.
In this day and age, where violent crimes are increasing, it is important to know how to defuse a volatile situation and if necessary, how to defend yourself or your loved ones.